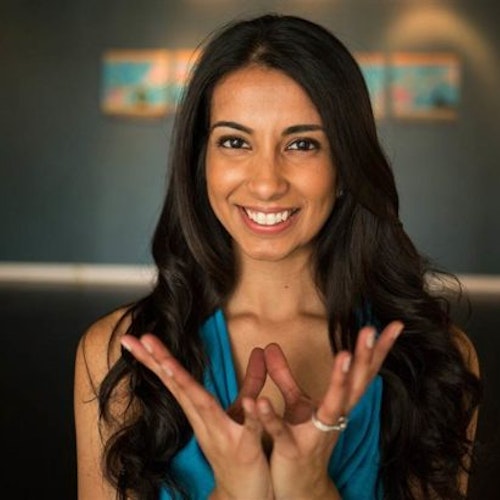 Zabie Yamasaki, MEd, RYT
Zabie received her BA in Psychology and Social Behavior and Education at UC Irvine and her MA in Higher Education Administration at The George Washington University. She completed yoga teacher training through Core Power Yoga in Costa Mesa, CA and attended a 40 hour workshop in trauma-sensitive yoga instruction at the Kripalu Center for Yoga and Health. She is a trauma-informed yoga instructor offering workshops specifically designed for healing sexual trauma. Zabie is the Assistant Director of UCLA's Campus Assault Resources and Education (CARE) Program and is the founder of Transcending Sexual Violence through Yoga, an organization with a simple mission: empowering survivors to heal through yoga. She teaches trauma-informed yoga classes at Be the Change and the Center for Living Peace in Orange County, California. Zabie has created a model therapeutic yoga program and curriculum being implemented throughout the U.S. at various universities and rape crisis centers including Stanford University, UC Irvine, UCLA, USC, Long Beach State, Center for Pacific Asian Families, East Los Angeles Women's Center, and Community Service Programs (CSP). Her work has been highlighted in the Huffington Post, OC Register, Pinterest, Elephant Journal, Breathe OC, and various online publications.
About
My own experience as a survivor of sexual violence in 2003 at UC Irvine initially sparked my interest in studying and understanding the rights of those who have been impacted by violence as well as the various opportunities to heal. In 2008, I moved to Washington, D.C. to obtain a Master's Degree in Higher Education Administration and Student Affairs at The George Washington University, specializing in sexual assault policies on college campuses. My passion for this area was clearly articulated to the campus and I was offered a graduate position as the Coordinator of Sexual Violence Prevention and Intervention. In this role, I assisted with the development of the End Campus Violence project at GW and implemented educational programs to raise awareness regarding GWU Campus Access to Resources and Education Services. During my time at GW, I also served on the Sexual Assault Crisis Consultation Team and provided on-call support and services to survivors of sexual assault.
In the second year of my graduate program, I obtained a fellowship with the American Association of University Women (AAUW), an organization that tirelessly advocates for breaking through barriers for women and girls. I assisted with the development of materials to provide support and resources to campuses looking to strengthen their programs for survivors of sexual assault.
Treatment Modalities
I believe that trauma-sensitive yoga programs and holistic forms of healing are truly the future of the field. I have been involved in prevention and intervention work for the past six years and I have not seen anything more transformational than the impact that a trauma informed yoga practice has had on the lives of survivors. As practitioners in the field, I believe we need to constantly challenge ourselves to identify best practices. I believe it is essential to think outside of the box when it comes to offering various modalities of healing. I experience a different level of inspiration when I develop yoga sequences for survivors. There is an energy in the room that transcends all words. Something inside me changes. I feel compelled to provide a safe space that provides ongoing opportunities to heal.
The Yoga as Healing 8-week series is intimately connected to the teachings in Bija Bennett's book, Emotional Yoga. Bennett (2002) reminds us that our emotions often times act as a bridge between our bodies and minds, which are intimately intertwined and connected with our emotions (2002). This series will provide survivors of sexual violence a means of becoming reacquainted with their bodies, help them become grounded in the present moment, and allow them to explore the benefits of mindfulness as they flow breath to movement in guided practice and meditation. Memories of sexually violent experiences can be intrusive, which can create challenges for survivors. These memories can also make it difficult for survivors who are looking to establish connection in their lives and learn how to trust again. The entire experience of practicing yoga, can help survivors find union between seemingly disconnected and challenging aspects of the self; allowing participants to slowly build the pieces into an integrated whole. In The Body Remembers: The Psychophysiology of Trauma and Treatment, Babette Rothschild recognizes the need for therapy to consist of helping people to stay in their bodies and to delve deeper into understanding these important bodily sensations (2000). Yoga's focus on self-acceptance provides survivors with tangible benefits that will become noticeable throughout their practice. This gradual integration can be transformational and healing for a survivor of sexual violence.
Experience
My experience have brought me full circle to my current role as the Violence Prevention Coordinator in UC Irvine's Campus Assault Resources and Education (CARE) Office. In this role I work directly with survivors of sexual assault, dating violence, and stalking. There are multiple facets to this role including: groups, trainings, campus-wide programs, campus-wide committees, and peer program development and supervision. The CARE Office is committed to offering holistic healing opportunities that allow survivors to heal through mind, body, and spirit. I became a certified yoga teacher in November 2011 and I developed and implemented a Yoga as Healing Program for survivors of sexual violence.
Through my conversations with students, I recognized that there was a need for a deeper connection to their healing. Because of how trauma impacts the body's physiology, it is essential to give students the opportunity to explore this connection to themselves and facilitate an avenue for them to reclaim their body. This 8-week series focused on different themes that align with common experiences that survivors may have. The themes included intention, safety, mindfulness, boundaries, assertiveness, strength, trust, acceptance and community. The program had an incredible impact on the 9 survivors that participated in the program. They built a strong community of support and were able to find deep connection and make meaning of the various experiences they have had. They connected in unison through the movement of their bodies and through shared experiences that have moved them in their healing process from survivors to thrivers.
Modifications for Survivors
I believe it is imperative for survivors to be able to exercise their choices during a trauma-sensitive yoga class. In my classes, I always ensure to ask if they prefer no physical adjustments and also inform them that they can leave at any time if they feel uncomfortable. The language use and posture choices in survivor yoga classes are central to developing an appropriate sequence and overall experience. I am constantly reading and educating myself on yoga in the context of healing for survivors. I would modify my approach by continuing to add to my toolbox of resources. This includes learning new postures, utilizing various excerpts and quotes in my classes, pulling together language that connects deeply to the experiences that survivors might have, learning about powerful meditation techniques and pranayama exercises, and compiling playlists that create an empowered experience that is conducive to healing. Additionally, offering various options and choices are essential to restore a sense of power and control in the lives of survivors as well as ensuring that poses are accessible to survivors at varying levels of practice. I also offer my services on a sliding scale to ensure that cost is never a factor in a survivor's ability to access resources and support. I always give myself adequate time to prepare for a survivor yoga class. The experience I create in the room is both unique and intentional. This is a responsibility I take very seriously and I am constantly open to changing and adapting my current approach to ensure the utmost safety and accessibility.
My current experience has been focused specifically on providing a yoga as healing course for college students at UC Irvine who are survivors of sexual violence. I work with students from a variety of different backgrounds and experiences. I provide trainings on campus to students and staff and in the local community on issues related to sexual assault, dating violence, and stalking.
I have received referrals from local psychologists who are working with clients that are interested in holistic healing methodology. I am in contact with these clients in the community and will be setting up private survivor focused yoga classes. I am also in the process of planning a Transforming Sexual Trauma through Yoga Retreat that will be open to community members who have been impacted by sexual violence.
Payment Options
I am able to offer sliding scale services.
About The Breathe Network
Users of The Breathe Network's resources assume responsibility for evaluating and selecting the providers included in our network. Please discuss your specific needs with the provider to determine whether they have the skills to assist you in your healing.
The Breathe Network, Inc. is organized as a public charity under section 501(c)(3) of the Internal Revenue Code, therefore the full amount of contributions made to our organization are deductible for federal income tax purposes.
Contact Us
RAINN National Sexual Assault Hotline:
1.800.656.HOPE
Online Hotline:
RAINN Online Hotline