About The Breathe Network
Holistic approaches to healing allow survivors to reclaim and reconnect with their physical, psychological, and spiritual selves in the aftermath of sexual violence. By ensuring ongoing access to trauma-informed support, we reduce the likelihood that the many physical and psychological symptoms of post-traumatic stress will take a hold of the survivor's body, psyche, and life. For us, healing sexual trauma is an essential form of harm prevention and health promotion.
Mission Statement
The Breathe Network supports survivors of sexual trauma with sliding-scale, trauma-informed, holistic healing practitioners and programs across the United States and Canada. Additionally, we train health, healing, and advocacy professionals on the nuanced impacts of sexual violence and how to cultivate best practices in trauma-informed care. Learn more about The Breathe Network team below!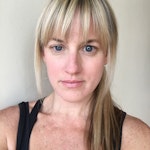 Molly Boeder Harris - Founder & Executive Director
Molly Boeder Harris was launched into the field of anti-sexual violence advocacy and trauma healing after surviving being raped in 2003. Exploring many diverse resources for recovery in the aftermath of the assault, she found that the approaches which integrated the physical, mental, energetic, and spiritual impacts of trauma proved most effective and most empowering. Molly's work in community-based rape crisis centers as a medical and legal advocate and crisis intervention and prevention education for students on two college campuses grounded her in anti-violence theory and practice coupled with grassroots, survivor-centered activism.
Recognizing the barriers to accessing whole-person healing resources, combined with her direct, personal experience of their profound ability to nourish resilience, led her to develop the vision for The Breathe Network. She believes that centering survivors' healing in a way that attends to their bodies, minds, and souls is fundamental within the larger movement to end sexual violence. Molly considers healing a form of prevention - prevention of both future interpersonal harm along with prevention of the intrapersonal suffering survivors navigate when they do not have access to healing resources.
Molly holds a Master's Degree in International Studies, a Master's Certificate in Women's & Gender Studies and is a certified Somatic Experiencing Practitioner (SEP). She served as the Training Coordinator for Somatic Experiencing International's (SEI) Portland, OR training program between 2019 - 2021. She continues to study somatic trauma healing practices and theory with Portland based teacher, Kathy Kain. In addition to her SE practice, Molly has been teaching yoga for over a decade and offers public classes, private instruction, workshops focused on healing trauma through yoga, and trauma-informed care and yoga teacher trainings across the United States and Canada.
Board of Directors
About The Breathe Network
Users of The Breathe Network's resources assume responsibility for evaluating and selecting the providers included in our network. Please discuss your specific needs with the provider to determine whether they have the skills to assist you in your healing.
The Breathe Network, Inc. is organized as a public charity under section 501(c)(3) of the Internal Revenue Code, therefore the full amount of contributions made to our organization are deductible for federal income tax purposes.
Contact Us
RAINN National Sexual Assault Hotline:
1.800.656.HOPE
Online Hotline:
RAINN Online Hotline