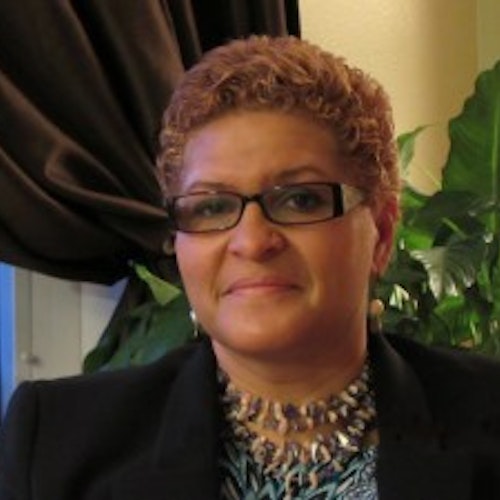 Santa Molina-Marshall
Santa Molina-Marshall, is a Licensed Clinical Holistic Psychotherapist who has been working in the field of trauma and sexual violence since 1990. In April 2014, she was awarded the National Sexual Violence Resource Center, 2014 Visionary Voice Award, for her outstanding work in the field of anti-sexual violence within her community. For the last 8 years she held the position of Director of Counseling and Advocacy at the D.C. Rape Crisis Center, where she directed the Center's counseling program; provided individual and group counseling; and supervised all clinical staff and graduate social work students. Between March 2013 and January 2014, Ms. Molina-Marshall also served as Interim Executive Director and was officer over of all programs and departments. She directed all policies, grants, management and board related functions. Since February 2014, she has been managing her full time private practice in Washington, D.C. and is a national and international speaker on women, trauma, mindfulness, grief and loss, compassion fatigue, neurobiology of trauma, and other topics.
About
Santa Molina-Marshall is a Licensed Clinical Holistic Psychotherapist, Licensed Independent Clinical Social Worker and Somatic Experiencing Practitioner (SEP) who provides individual, couples and family therapy as well as support groups for trauma survivors. Ms. Molina-Marshall received her BS and her MSW from Hunter College School of Social Work in NYC. She has obtained licensing/certification as a Massage Therapist, Integral Yoga Teacher, Reiki Master and was ordained as an Interfaith Minister at the New Seminary in New York City, in 2004. Ms. Molina-Marshall specializes on issues of loss and grief, bereavement, and adult and childhood sexual abuse.
She served as the Director of the Advocacy and Counseling department at the DC Rape Crisis Center in Washington, D.C. for seven years before opening her full time private practice. Ms. Molina-Marshall has developed a holistic approach to addressing the needs of survivors of trauma that encompass addressing the body, mind and spirit and is a compassionate and dedicated clinician. In addition to working with clients, as a seasoned practitioner, Ms. Molina-Marshall provides clinical consultations and supervision for professionals who seek to gain experience, support, and/or their clinical supervision hours for licensing.
Treatment Modalities
I draw upon a clinical holistic approach to healing that stems from a neurological understanding of the impact of trauma and integrates my studies in psychotherapy, Somatic Experiencing, Mindfulness, Yoga, Reiki and other healing arts. Specifically, I bring my personal experience with healing from sexual trauma to my work along with an understanding that it may take as many approaches as there are survivors to find the appropriate modalities for healing. I can offer a potpourri of healing arts modalities for survivors including Ego Strength, Inner Child Appreciation and Recovery, Body Centered Somatic Experiencing (tracking and healing the neurological impact of trauma), Hatha Yoga, Meditation and Visualization, Sacred Touch, Therapeutic and Supportive Touch and Psycho-dynamic understanding to name a few. How the various approaches are introduced to the client has everything to do with what the survivor needs, desires and feels comfortable with at that time.
In addition to working with individuals, I offer a semi-closed process oriented Somatic Experiencing group for trauma survivors that is all-genders inclusive. This group of 6 – 8 people meets weekly and will open up to new members joining every 3 months.
Experience
As a Licensed Clinical Holistic Psychotherapist for over 25 years, Ms. Molina-Marshall has been dedicated to addressing her client's concerns from a holistic perspective. She is fluent in Spanish and brings cultural sensitivity to her work. She has extensive experience working with issues of sexual/domestic violence, eating disorders, loss and grief, and relationship challenges. While traditional "talk therapies" are important, Ms. Molina-Marshall's experience has confirmed that holistic healing opportunities that incorporate body, mind and spirit approaches are essential to restoring wholeness. She offers a way of healing that is dedicated to addressing the effects of life challenges/conflicts and trauma at their core – honoring the nervous system, the spirit and the individual's psycho-social and psycho-dynamic backgrounds. She brings her experience with Clinical Social Work, Yoga and Meditation, Energy Healing, and her belief in the potential of the human being to all of her sessions with clients.
My Interest in Working with Survivors
Throughout the last 51 years, I have come to understand that surviving sexual trauma and reclaiming our innate beauty and strength is possible and available to us all. Experiencing and re-learning/learning about healthy attachments, boundaries, unconditional love and respect, is possible. As a Licensed Clinical Holistic Psychotherapist, my goal is to help you uncover your true potential. Traumatic and challenging experiences in our lives can affect our nervous system, rendering us vulnerable, confused and at times stuck in fight, flight and/or freeze responses to our life. While we cannot change the difficult events and experiences of the past, we can work together to better understand and resolve challenges in your life. By combining complementary therapeutic approaches and techniques, and Somatic Experiencing, Mindfulness and Psycho-dynamic approaches, we will unearth long-standing behavioral patterns or negative perceptions that may be holding you back from experiencing a more fulfilling and meaningful life. My dedication to wellness and healing have led to my exploration of and training in some of the many options available to creating inner balance. Consequently, I have obtained Licensing/Certification as an Integral Yoga Teacher, Massage Therapist, Reiki Master and Interfaith Minister.
No matter how you are feeling, know that there is someone out here to support you. Do not lose hope. I believe that we all have the innate ability to be well, regardless of our race, sexual orientation or gender identification. It is my honor to assist you at recognizing and reclaiming your strength and true potential through gentle, mindful and regulated interventions that provide you with balance and peace.
How My Practice Holistically Addresses the Impacts of Sexual Trauma
Through mindfulness, awareness and the understanding of the power of the therapeutic relationship – I make room to address the body, mind and spirit. Most importantly encouraging the survivor to lead the process provides empowerment after trauma.
Modifications for Survivors
There is no need for me to modify the way I provide healing support, provided that I am listening and hearing the needs and concerns of my client attentively and that I remain consistent in my work with them. My training in body-oriented psycho-therapeutic practices allows me to create a safe container with trauma survivors who might feel stuck in the fight, flight, freeze, to provide them with tools to resolve and move through what might arise in our time together.
Other Areas of Expertise
Addiction & Recovery, Attachment and Adjustment Challenges, LGBTQ Concerns, Race, Ethnicity & Gender, and Children
Payment Options
I am able to offer sliding-scale services.
About The Breathe Network
Users of The Breathe Network's resources assume responsibility for evaluating and selecting the providers included in our network. Please discuss your specific needs with the provider to determine whether they have the skills to assist you in your healing.
The Breathe Network, Inc. is organized as a public charity under section 501(c)(3) of the Internal Revenue Code, therefore the full amount of contributions made to our organization are deductible for federal income tax purposes.
Contact Us
RAINN National Sexual Assault Hotline:
1.800.656.HOPE
Online Hotline:
RAINN Online Hotline