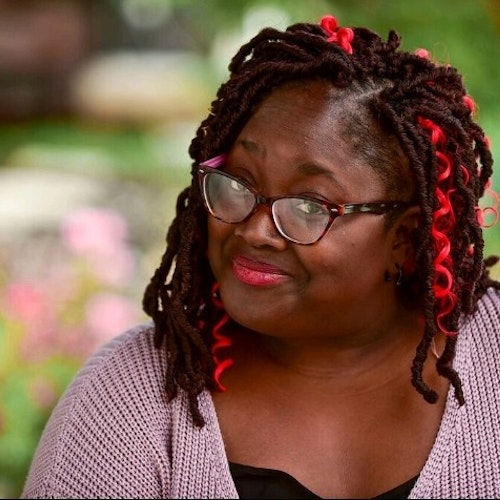 Natasha Ellis
Natasha Ellis is a naturally, easy-going person with a youthful spirit and an old soul that is full of personal wisdom. Professionally, she has many interests but her longest passion is her work in mental health and addiction. Natasha is a Certified Mental Health and Addiction Specialist with over ten years experience working with survivors of trauma. This work lead her to discover the joys of a Laughter Yoga practice and how it can be used as a tool to sustain and maintain healing and recovery.
About
I have been practicing Laughter Yoga for 10 years and earned my teaching certificate nine years ago. I have primarily worked with businesses and groups and my intention eventually shifted to work with people on a one-on-one basis. Laughter Yoga has greatly enhanced my personal recovery as a survivor of childhood sexual abuse, rape, and having had a mental illness diagnosis. Laughter Yoga has reduced my stress level and anxieties while increasing my social interaction and supporting my mindset. During my time experiencing abuse and trauma, one of the things that kept me going was my natural sense of humor – so it was no surprise that I would be oriented towards Laughter Yoga. One of the worst things that trauma does is that it steals our inner joy and Laughter Yoga can help survivors reclaim that joy.
Treatment Modalities
My treatment modality is Laughter Yoga which is an exercise routine that combines the deep yogic breathing of traditional yoga along with laughter exercises. Some of the foundational concepts of the Laughter Yoga practice are:
Whether we are laughing for real or through a laughter exercise our brain cannot tell the difference and we still get the benefits of laughter.

Deep Breathing Practices support and improve our mind and body.

Laughter Yoga is not based on jokes or humor, it's about creating joy in our inner environment by laughing, clapping, singing, dancing, and playfulness.

The practice of Laughter Yoga impacts all aspects of the person – body, mind and spirit.
Experience
My professional experience in working with sexual trauma survivors began with my training and work as a Certified Peer Support Specialist. Additionally, I volunteered with Haven Shelter, which is a nonprofit organization for survivors of sexual assault and domestic violence. The significant majority of the clients I serve at the agencies and clinics where I work and volunteer are trauma survivors.
My Interest in Working with Survivors
I am interested in working with survivors because I am a survivor, too. Having been through abuse myself, I have insight into what it is to survive, and ultimately, what it is to thrive after trauma. I have a passion for Laughter Yoga and want to see survivors find paths to reclaim joy in their lives and enhance their total well-being.
My Approach to Trauma-Informed Care
Providing trauma-informed care means that when I am providing a service to someone, there is dignity and respect for them and what they endured. I am also well-versed on how to manage triggers, the range of responses a person may experience in yoga in general, or responses that may surface during a session due to the trauma they survived.
How My Practice Holistically Addresses the Impacts of Sexual Trauma
One of the impacts of trauma is it shuts us down emotionally and cuts us off from our ability for joy. Laughter yoga is a healthy coping skill and healing modality to begin to open us up again once we have reached a place in the healing process where we seek this kind of opening.
Modifications for Survivors
There is no need to modify Laughter Yoga because it is conducive and well-adapted to the needs of survivors of trauma.
Other Areas of Expertise
I have been trained and educated on how to provide service for mental health, substance abuse, and trauma support within the LGBTQ community.
Payment Options
I am able to offer a sliding-scale.
About The Breathe Network
Users of The Breathe Network's resources assume responsibility for evaluating and selecting the providers included in our network. Please discuss your specific needs with the provider to determine whether they have the skills to assist you in your healing.
The Breathe Network, Inc. is organized as a public charity under section 501(c)(3) of the Internal Revenue Code, therefore the full amount of contributions made to our organization are deductible for federal income tax purposes.
Contact Us
RAINN National Sexual Assault Hotline:
1.800.656.HOPE
Online Hotline:
RAINN Online Hotline