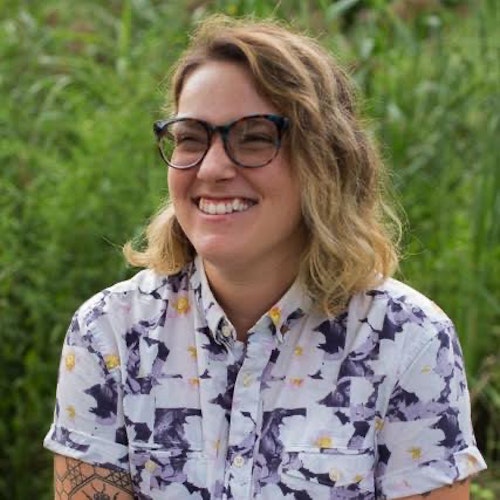 Mikella Millen
Mikella Millen (she/they) is an Art Psychotherapist, Hypnosis practitioner, Reiki Master, and Breathwork facilitator working primarily with LGBTQIA2+ individuals who have experienced trauma and complex trauma.
About
Mikella Millen's approach to trauma healing is rooted in the belief that all healing is self healing, with the therapist or practitioner acting as a guide not the "expert"; and that finding relief following traumatic experiences involves addressing the impact of trauma on the body and spirit, while also locating the intersections between personal experience and systems of oppression. In seeing the need for community support for trauma survivors, she is increasingly moving towards group work while continuing to work individually when needed.
Treatment Modalities
I have a few primary modalities that anchor my work with sexual trauma:
Art Therapy is a form of expressive therapy that utilizes the art process as a means to express emotions, memories, and thoughts without necessarily relying on verbal communication. Art Therapy has a very unique role in trauma processing as it allows for effective expression of non-verbal memory in a safe and grounded way. It is especially helpful for those who may have difficulty accessing clear memories as well as those who struggle with dissociative responses in therapeutic settings.
Ericksonian Hypnosis (hypnotherapy) is a gentle and non-suggestive form of hypnosis that utilizes the trance state to assist the person in accessing inner resources and self-knowledge. I use hypnosis as a gentle way to begin making contact with the somatic body, and to assist in connecting to resources that we may have limited conscious access to as a result of traumatic experiences.
Reiki is a gentle but powerful form of energy work. As a trauma therapist my approach to reiki practice is somewhat non-traditional. I will often pair reiki with verbal techniques and assist people I work with in connecting to younger parts of themselves, and engage in a collaborative process to facilitate self-healing. This can be done over distance, and also when in person it can be done with or without physical touch.
Experience
I have been working with survivors of sexual trauma since my graduate training in 2009. I have worked across the age span with children and families impacted by sexual trauma, gender-based violence, and human trafficking as a direct provider/therapist, as a supervisor, and developing holistic programming for multi-service organizations. My initial work with children, and specializing in child survivors under the age of six, has given me a unique approach and perspective for working with adults who experienced trauma as children. I utilize creative expression, play, story, and body awareness, along with verbal techniques to work with individuals to find integration and healing on the level of mind, body, and spirit.
My Interest in Working with Survivors
My personal experiences were the driving force for my interest in the fields that I practice, and I feel passionately about the need for survivors to have safe(r) and affirming spaces that reflect back wholeness rather than pathology.
My Approach to Trauma-Informed Care
Trauma-informed care means integrating an understanding of how trauma affects the mind/brain, body, spirit and relationships, and keeping that awareness present in all aspects of the way I'm working with people. For me it also involves keeping that same awareness present in terms of locating personal identity of me as the practitioner and those I hold space for as we move through this work. In modalities that involve verbal processing, it means concretely exploring intersections of systems of oppression as they relate to the person's experience.
How My Practice Holistically Addresses the Impacts of Sexual Trauma
Even when engaging in more verbal processes in a therapy context, my foundation in non-verbal communication and body states allows for flexibility in how we approach the active therapeutic work and the content being shared. Working with different modalities allows for natural shifting between different areas of the self that may be most impacted by trauma; we can move seamlessly between the impacts on the mind and beliefs about self/world, physical experiences in the nervous system and body overall, and relational experiences with others. All of the approaches that I use work with the inherent resilience and self-knowledge that we hold in ourselves, allowing for control and agency on the part of the person participating in the therapeutic experience.
Modifications for Survivors
I have a wide range of techniques that I draw upon to best serve the person as they present themselves in the moment. If struggling with being present or speaking directly about the experience(s) I will utilize more non-verbal and grounding modalities so that we may begin to work with the emotions within needing to disclose in detail. In other cases when the body is experienced as unsafe or dangerous, we can begin with aspects of self (perhaps utilizing verbal dialogue and story) that feel more accessible and build resources from there.
Other Areas of Expertise
As a Queer and gender fluid practitioner I am especially passionate about working with folx across the LBTQIA2+ spectrum. In particular, when working with sexual trauma it becomes imperative to have a deconstructed approach to gender and sexuality, and to hold space for a wide range of feelings and experiences that intersect with trauma. I am committed to continually examining the ways that white supremacy, capitalism, ableism, homophobia, transphobia, and colonization manifest not only in our lived experiences, but how this can infiltrate the systems of mental health and wellness. As a White practitioner I hold the awareness of my impact in working with people with different identity locations, and for those who are comfortable working with a White practitioner I maintain a humbled commitment to integrating anti racist practice into all aspects of how I work to the best of my capacity.
Payment Options
I have a limited number of sliding-scale appointments available for psychotherapy (available only to those living in NY state), and I offer holistic groups (reiki, breathwork, and hypnosis) that are all sliding-scale or by donation. You can book with me here.
About The Breathe Network
Users of The Breathe Network's resources assume responsibility for evaluating and selecting the providers included in our network. Please discuss your specific needs with the provider to determine whether they have the skills to assist you in your healing.
The Breathe Network, Inc. is organized as a public charity under section 501(c)(3) of the Internal Revenue Code, therefore the full amount of contributions made to our organization are deductible for federal income tax purposes.
Contact Us
RAINN National Sexual Assault Hotline:
1.800.656.HOPE
Online Hotline:
RAINN Online Hotline