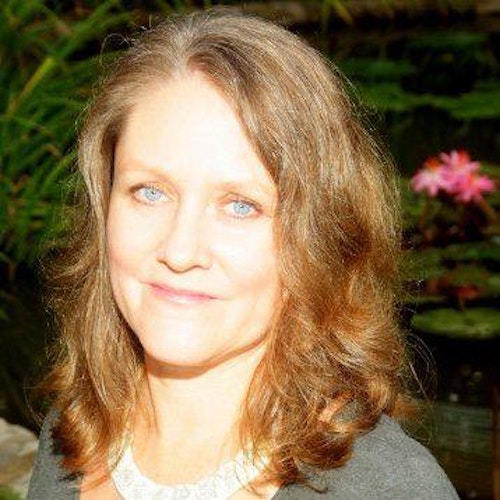 Margaret Howard, MFA, LCSW
Margaret works within the intersections of somatic and depth psychotherapies, calling in land wisdom, dream work, ritual, spiritual reconnection deepening into communication with the land, and boundary warrioring. Their practice serves women, non-binary, and femme folks who are interested in compassionately working with anxiety, trauma, disordered eating, recovery from cultic dynamics, deepening into connection with the land, and re-learning how to truly rest, all within a HAES-aligned, fat positive, decolonizing, anti-racist frame. Their current influences include Resmaa Menakem, Stephen Porges, Patricia Ogden, Peter Levine, Sharon Blackie, Tricia Hersey, Toko-pa Turner, Louise Erdrich, and Daniel Foor. Margaret is a Licensed Clinical Social Worker (LCSW) in Illinois and Missouri, serving both states via Telehealth. Their life includes grandchildren, their coworker and therapy dog, Nya, and building a regenerative food forest in southern Illinois on their small plot of land. Margaret is also a U.S. Army veteran.
About
It is my belief that my own experience with trauma and adversity positively informs and enhances my work, and that we can survive to serve and heal. There is no need to pretend we are perfect or have lived perfectly sheltered lives. Further, I believe that at the core of every human being there exists the True Self, that the True Self is connected to all consciousness, and that part of our psychological work is in remembering and accessing our True Selves — and that this is done through the body and depth work, including Jungian dream work. I believe that humans are by nature diverse, and that this diversity is a joy! I do not believe that our mission in life is to "fit in" but rather to become who we really are, and that part of that journey is the cultivation of compassion, first and foremost for ourselves.
Treatment Modalities
My approach is an integration of depth psychology centered on Jungian theory and dream work, and neurobiologically- based mindfulness methods. I am training in Peter Levine's Somatic Experiencing (SE™), which addresses tools to release trauma held in the body. All of this work is done is a trauma-sensitive frame, and I am continually educating myself in the most current trauma research. My strongest influences are Peter Levine, Bessel Van der Kolk, Patricia Ogden, Donald Kalsched, and Carl Jung. I also use art (especially watercolor painting, colored pencil and crayon drawing), rhythm, and work with the chakras and chakra colors. I find that working with chakras and their colors can be a gentle way into working with the body.
Experience
I have worked with survivors of sexual violence in several milieus, including at Girls Educational and Mentoring Services (GEMS), a program for minor girls who have been subject to commercial sexual exploitation and sex trafficking; with the National Survivor Network (NSN), a survivor-run organization including survivors of all forms of human trafficking from around the world, based through the Coalition Against Slavery and Trafficking (CAST) in Los Angeles; crisis phone work, often assisting people in trauma activated states to find equilibrium and safety; and work in my own private practice with survivors. In addition, I have worked to enact the trauma-informed framework and associated trainings to area-wide mental health service networks, police departments, the Department of Justice, the Amber Alert program, OCSE, and many NGOs.
My Interest in Working with Survivors
First, I am a survivor myself. I work from the position of the wounded healer. Second, I believe that assisting people in healing from trauma is a necessary work in the world, that much of the violence and destruction we see is the consequence of trauma that has not been healed. By helping people to access their own healing systems I believe we are doing our best to make the world a better place.
Modifications for Survivors
I am constantly adjusting my approach in response to the patient's cues. If I see them experiencing activation, I will take a subtle action to titrate it. I do not want to bring someone into a more activated state that is past their tolerance threshold. I find that in the beginning quick progress is often made by helping the patient to recognize how their body is responding to what we are talking about, and through the use education and mindfulness/body awareness to help them feel their way through the process in a gentle way. From the start, I see an important part of my work as providing a safe container, while also monitoring safety continually.
Other Areas of Expertise
I have a high level of expertise in human trafficking, particularly, and have done consulting and technical assistance locally, nationally, and internationally. I myself am a U.S. Army veteran, and hope to work more with veterans and survivors of sexual assault in the military, a very painful form of violent betrayal. I have participated in specialized training in working with military members and veterans and I lead writing workshops for veterans.
Payment Options
I offer a limited number of sliding-scale slots.
About The Breathe Network
Users of The Breathe Network's resources assume responsibility for evaluating and selecting the providers included in our network. Please discuss your specific needs with the provider to determine whether they have the skills to assist you in your healing.
The Breathe Network, Inc. is organized as a public charity under section 501(c)(3) of the Internal Revenue Code, therefore the full amount of contributions made to our organization are deductible for federal income tax purposes.
Contact Us
RAINN National Sexual Assault Hotline:
1.800.656.HOPE
Online Hotline:
RAINN Online Hotline