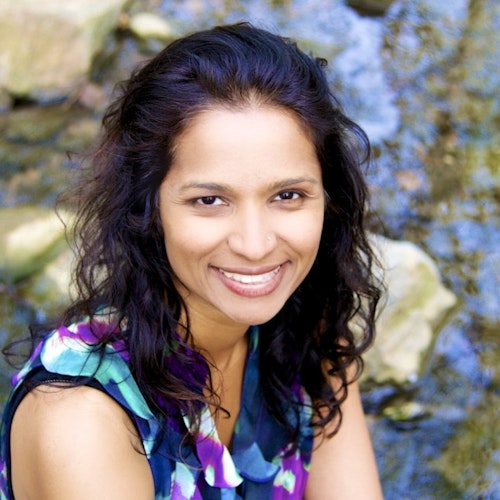 Manisha Tare
Manisha Tare, OTR/L, MPH, RYT, is a licensed occupational therapist and yoga teacher focused on healing and wellness. She specializes in CranioSacral Therapy and therapeutic yoga as her primary modalities to help people understand the connection between their minds and bodies. These modalities facilitate the release of old outdated patterns, address structural and energetic misalignment that may be the cause of physical and emotional pain, and help create a sense of safety and grounding in the body. Manisha studied occupational therapy at New York University and holds a Master's in Public Health from Columbia University. She has extensive experience working with young children with developmental delays, attention deficit, and sensory integration issues. She works with adults who present with physical symptoms such as headaches, pain, difficulty sleeping, and anxiety as a result of stress, a history of trauma, experiences of grief or loss, and an overall lack of balance in their lives.
About
Manisha Tare is a craniosacral therapist and yoga teacher in Washington, D.C. As an occupational therapist, she has worked with children and adults for many years to help them regulate their sensory systems while working through internal and external stress, trauma, and grief. Her primary modalities include craniosacral therapy, yoga, breathwork, meditation, and therapeutic dialogue when appropriate to help uncover the root sources of physical pain, anxiety, sleep issues, and emotional distress. Her passion and interest include working with people to help them understand the messages their bodies are sending them and hold space for intense emotions and experiences to be processed through the body while moving towards mental and physical relief. She believes in creating an environment of safety for clients to be present for what is arising for them and empowering them to feel their own sense of self-compassion, strength, and resilience. Manisha continues to pursue advanced level training in CranioSacral Therapy and SomatoEmotional Release through the Upledger Institute. She has completed two 200-hour yoga teacher trainings in the hatha and vinyasa methods as well as a prenatal yoga teacher training with Yoga For Two. Manisha is also a Certified Infant Touch and Massage Instructor.
Treatment Modalities
Craniosacral therapy consists of light hands on touch while the client is fully dressed. I always check in with clients to see what their experience is of touch. As a client, you are welcome to keep your eyes open and as you feel more comfortable and safe, you can close your eyes in order to tune into your body. Depending on where you are in your own processing, you may be connected to internal subtle sensations within your body or you may be feeling fairly numb. Depending on where I feel physical restrictions or imbalances and what you choose to share, I begin my initial point of contact. The touch is quite light and is along different points on your body though it is often along the spine and at the head. The session may be on the quiet side to give you a sense of safety and restoration in your body or there may be some dialogue as you are noticing physical sensations arise or memories come up. My intention is to end the last portion of the session with less or no talking so your body has the tactile experience of feeling nurtured and safe.
A private yoga session may differ for each person. You may want an active practice to move and feel strength in your body. We may focus on different types of breath work to connect you more with your system and help the energy channels open that may be blocked. I also offer yin yoga and restorative yoga. Yin yoga is extremely grounding. It consists of long held floor based poses where props may be used to support you. We hold the poses, while letting go of the muscles in order to increase our flexibility but also to enter a more meditative state. Restorative yoga consists of resting in poses that are fully supported by props for at least 10-20 minutes per pose to help the nervous system calm, release, and restore.
Experience
My experience working with survivors has been through my private practice. I have found that the experience of sexual violence may not be the primary reason they come, though there has been a history for some clients who present with other physical symptoms such as back or neck pain or digestive issues. When people have the experience of feeling unsafe in their bodies, their nervous systems can be impacted on a deep level. Through my training with working with the body through craniosacral therapy and yoga, I work to hold a strong space for the body to share its message and for the client to understand what their body needs to feel safer. Clients have also come for treatment post a significant loss when they are working through grief or other types of trauma related to deployment and war related experiences.
My Interest in Working with Survivors
I feel very strongly that our body speaks to us and after the experience of a traumatic incident, we don't always want to verbally repeat and explain everything we have experienced in great detail. In order to feel the power we have within ourselves, I think it's key to have an experience of that feeling within us that so we can begin to internalize and feel more in control once again. When we've been traumatized, it may feel safer to disassociate from our bodies and I think craniosacral therapy and yoga can impact us on a deep cellular level and connect us back to our own sense of power that may feel lost.
My Approach to Trauma-Informed Care
Providing trauma informed care means recognizing that the experience of trauma can create a sense of feeling unsafe; that leaving one's body feels like the only way to survive, and depending on the experience, it could leave one feeling very powerless and debilitated. Everyone's experience of this is different yet incredibly valid. I think it's so important to meet people where they are and gently guide them to a place where they feel safer in their bodies and can sense into their own wholeness over time.
How My Practice Holistically Addresses the Impacts of Sexual Trauma
The modalities I've described allow the body's parasympathetic response to kick in which helps us to rest and restore. After a traumatic experience, our fight/flight response has been kicked into high gear for good reason and the body does not get a break from it. Other systems such as respiration, digestion, circulation and sleep may become disrupted over time as we are constantly "on". With calming practices facilitated in safe space, the body can feel the experience of safety. This can take time to build up, but with each practice and opportunity, the body will remember more and more how it feels to be safe and this sense can be carried into daily life with more confidence and ease.
Modifications for Survivors
I always have a conversation and explain the nature of a session to clients. Due to the nature of a survivor's experience, I will ask them if they prefer not to be touched in a particular place on their body as it may be too initially triggering. For example, there are some craniosacral techniques where my hand may lightly be touching a person's throat. If this feels too invasive, there are ways to work in differently to be respectful of where people are in their own process. I am always open to and welcome feedback to make sure an environment of safety and trust is created.
Payment Options
I accept a limited number of sliding-scale clients and when we connect, I would be happy to discuss with you what I have available at that time.
About The Breathe Network
Users of The Breathe Network's resources assume responsibility for evaluating and selecting the providers included in our network. Please discuss your specific needs with the provider to determine whether they have the skills to assist you in your healing.
The Breathe Network, Inc. is organized as a public charity under section 501(c)(3) of the Internal Revenue Code, therefore the full amount of contributions made to our organization are deductible for federal income tax purposes.
Contact Us
RAINN National Sexual Assault Hotline:
1.800.656.HOPE
Online Hotline:
RAINN Online Hotline