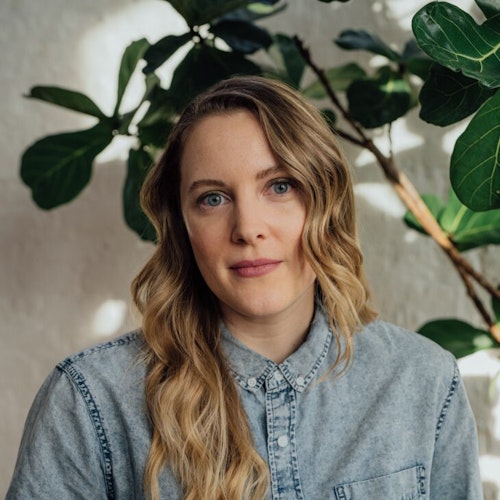 Jordan Ferranto
Jordan Ferranto (she/her) is a licensed clinical professional counselor (LCPC) and registered art therapist (ATR), currently pursuing advanced training in sexuality and relationships. An emphasis on trauma, sex, and relationships has emerged for her over the course of five years practicing in various settings.
About
My therapeutic style integrates relational-cultural and emotion-focused techniques with an arts-based bend. I work with individuals and couples who want to mend or enhance their intimate lives. I conceptualize the therapeutic process as the intentional application of curiosity and attention. I invite my clients to develop an experimental mindset as a way to walk into deeper understandings of themselves. Establishing an authentic and unwavering relationship with oneself is the foundation of my work with clients as they explore their definitions of sexual and relational wellness.
Treatment Modalities
I offer individual, group, and couples therapy. My theoretical frameworks are relational-cultural, intersectional feminist, emotion-focused, and trauma-informed. I'm also an art therapist so I offer interventions within the art therapy modality as well. I also incorporate a lot of mindfulness-based methods and attachment focused approaches.. What all of this means is that I approach individuals with an understanding that our experiences of sexual harm are informed by many contextual layers such as family of origin, cultural background, and systemic issues to name a few. I emphasize mindful awareness of our emotions and our bodies as a way to empower folks to regain trust in themselves so that they can take control of their healing.
Experience
I have worked in a Rape Crisis Center in Chicago for the last 5 years providing trauma therapy and art therapy for survivors and their loved ones. I have been trained in EMDR and crisis intervention. I have recently transitioned into a private practice setting where I will continue to work with survivors while also expanding my speciality to include other issues related to relationships and sexuality.
My Interest in Working with Survivors
I feel very passionate about advocating for and supporting survivors along their healing journey. I am particularly passionate about mindfulness-based art processes such as knitting or sewing and the ways in which those processes can be utilized in healing from sexual trauma.
My Approach to Trauma-Informed Care
I believe trauma-informed care requires the practitioner to have a deep understanding of the layered impact of trauma on an individual, their family, and the community as a whole in order to avoid pathologizing clients for the ways in which their bodies and minds have survived unspeakable harm. A big part of the way this awareness comes out in how I work with folks is in allowing lots of space for their personal agency to be restored. I hold space for this kind of restoration by practicing with a collaborative and empowerment-based lens.
How My Practice Holistically Addresses the Impacts of Sexual Trauma
I think the root of healing from sexual trauma lies within reestablishing a connection with oneself after being fractured by harm. This reconnection happens on all levels – psychological, spiritual, and physical. My background as an art therapist is incredibly helpful in addressing the nuanced, layered, and profound aspects of surviving and healing from sexual trauma because art making allows us to enter these kinds of deep explorations with a sense of control and safety.
Modifications for Survivors
I am a firm believer in allowing the client to take the lead in their healing. When I approach work with clients in this way I am able to adapt moment to moment to respond to what they are needing. I allow clients to set the pace and to decide what they want to explore with me, which creates a great deal of safety and accessibility because I am able to meet the client where they are at.
Other Areas of Expertise
I have a particular interest in the negative impact of inadequate sex education on adult sexuality. I am also passionate about helping survivors in particular to create pleasurable and satisfying sex lives after sexual trauma. I developed an arts-based project that I use with clients that walks them through creating a soft-sculptural vulva as a way to process and redefine their relationship with that part of their body. This has been very helpful for vulva-owners to explore this part of their body with a bit of safe distance and creativity.
Payment Options
I am in network with BCBS PPO plans and do have sliding-scale options which are based on income levels.
About The Breathe Network
Users of The Breathe Network's resources assume responsibility for evaluating and selecting the providers included in our network. Please discuss your specific needs with the provider to determine whether they have the skills to assist you in your healing.
The Breathe Network, Inc. is organized as a public charity under section 501(c)(3) of the Internal Revenue Code, therefore the full amount of contributions made to our organization are deductible for federal income tax purposes.
Contact Us
RAINN National Sexual Assault Hotline:
1.800.656.HOPE
Online Hotline:
RAINN Online Hotline