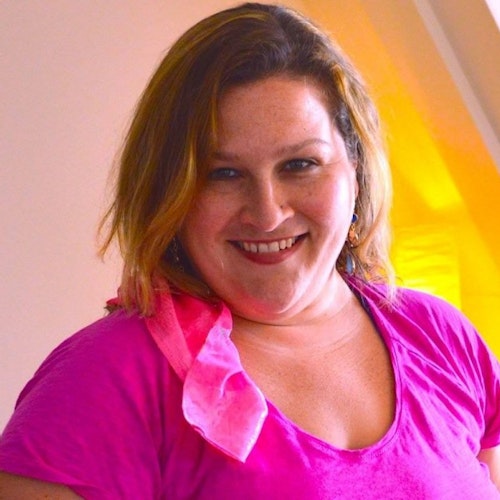 Jamie Marich, PhD, LPCC-S, LICDC-CS
Jamie Marich's friends and colleagues describe her as a renaissance woman. A dancer, musician, performer, writer, recovery ambassador, clinical counselor, expressive arts therapist and Reiki Master Teacher, Marich unites these elements of her experience to achieve an ultimate mission: bringing the art and joy of healing to others. Marich began her career in human services working in humanitarian aid in Bosnia-Hercegovina from 2000-2003. She travels internationally speaking on topics related to EMDR therapy, trauma, addiction, and mindfulness while maintaining a private practice (Mindful Ohio) in her home base of Warren, OH. She is the developer of the Dancing Mindfulness practice and the co-creator of the Yoga Unchained approach to trauma-informed yoga.
About
Jamie Marich specializes in EMDR Therapy and works to meet people where they are "at" on their recovery journey, blending in several other modalities and complementary practices. She works with clients in her home region and also offers EMDR intensive sessions to those traveling from outside of her region to seek her services. She is the developer of the Dancing Mindfulness practice and the co-creator of the Yoga Unchained approach to trauma-informed yoga.
Marich co-authored EMDR Therapy & Mindfulness for Trauma-Focused Care along with colleague Dr. Stephen Dansiger, which was released with Springer Publishing in 2017. Her newest title, Process Not Perfection: Expressive Arts Solutions for Trauma Recovery, is due to be released in April 2019. Marich's writing and work on Dancing Mindfulness was featured in the New York Times in 2017. In 2015, she had the privilege of delivering a TEDx talk on trauma (available on YouTube), and she made her first appearance on the popular Recovery 2.0 Conference. Additionally, NALGAP: The Association of Gay, Lesbian, Bisexual, Transgender Addiction Professionals and Their Allies awarded Jamie with their esteemed President's Award in 2015 for her work as an LGBT advocate.
Treatment Modalities
Eye Movement Desensitization and Reprocessing (EMDR) Therapy, now identified as a distinct approach to psychotherapy, is my primary modality—most of the clients that I see seek me out for EMDR. However, I do not force it on people. I am also trained in cognitive-behavioral interventions, dialectical behavior therapy, mindfulness-informed therapy, and I have competence working with Gestalt, existential, and pastoral counseling interventions. I created a program called Dancing Mindfulness, and I integrate many of the dancing mindfulness concepts, attitudes, and elements into my clinical work as well. I have my own yoga practice and teach trauma-informed yoga, and I am also a Reiki Master.
Experience
Sexual violence and sexual abuse are the two primary forms of trauma that I've worked with since I began my practice. Before entering private practice in 2008, I spent several years working in chemical dependency treatment and adolescent residential treatment, and I witnessed how ineffective care can be for survivors of sexual trauma. My training in specialty trauma modalities like EMDR therapy was targeting to addressing survivors of sexual trauma, and my dissertation research (published in 2009 and as an article in 2010) focused on addicted survivors of trauma, primarily sexual and spiritual trauma.
My Interest in Working with Survivors
I identify as a survivor myself and I am grateful that the first providers who worked with me on my own recovery journey were trauma-informed. Had they not been, I don't think I would have made it. I see the work as do as a form of giving back which was given to me, and being a witness to the transformations that I get to see on a daily basis is the most rewarding experience of my life.
How My Practice Holistically Addresses the Impacts of Sexual Trauma
I work with people in a very holistic way and I believe that having this combined training allows me to address the sequelae of traumatic experiences on all of these levels. I also recognize that people heal in various degrees and with various levels of readiness, so I am adamant about not forcing interventions on people. I work with both my clients and people I train in a "come as you are, let's meet you where you are at" style of relating.
Modifications for Survivors
Safety and flexibility are the two guiding values of my trauma-informed practice. I tailor the interventions I offer to meet the client, I don't expect them to change to meet my way of operating. If it doesn't seem like we are a good fit within the first few sessions, I work with the client to set them up with a person who is better able to meet their needs.
Other Areas of Expertise
I regularly consult with and collaborate with a colleague who is an expert on military and public safety trauma, and I consider my competence in these areas to be higher than the average practitioner. I specialize in addictions, in addition to trauma, and I am comfortable working with all addictions and family members of those affected by addiction. With beginning my career in Bosnia-Hercegovina, I've always kept a global view on my work and believe that I am able to work with people from non-Western cultures in a very compassionate way as a result of this experience.
Payment Options
Generally, I am not able to offer a sliding-scale, yet there are always exceptions if a person or agency seeking training can make a good case. If I can't offer sliding-scale, I try to set people up with someone who can.
About The Breathe Network
Users of The Breathe Network's resources assume responsibility for evaluating and selecting the providers included in our network. Please discuss your specific needs with the provider to determine whether they have the skills to assist you in your healing.
The Breathe Network, Inc. is organized as a public charity under section 501(c)(3) of the Internal Revenue Code, therefore the full amount of contributions made to our organization are deductible for federal income tax purposes.
Contact Us
RAINN National Sexual Assault Hotline:
1.800.656.HOPE
Online Hotline:
RAINN Online Hotline