TBN's Holding a Healing Space Training - Meet Our Team
Published: August 19, 2022
We are thrilled to introduce you to the teaching team and curriculum for our newly launched course: Holding a Healing Space – A Holistic Training in Supporting Sexual Trauma Survivors.
Within this course, our conversations about individual trauma healing are grounded within the larger context of what sexual trauma survivors navigate directly and indirectly through how our society defines and responds to sexual trauma, and how systemic oppression, social and historical trauma, and cultural norms combine to shape and influence our experiences of violence, while also determining both access and barriers to resources.
The training materials anchor participants in a nuanced understanding of the physiology of trauma and resilience, invite an examination of individual experiences of sexual trauma and contextualize them within systemic and generational forms of trauma. With this foundation, we will begin to discern how we integrate this knowledge within specific therapeutic applications and adaptations of trauma-informed care across a range of healing modalities.
As the practitioner's own presence informs their capacity to both steadily and flexibly hold space for survivors in the deepest places of their pain, we will explore somatic approaches to tending to ourselves as healing professionals who carry our own trauma histories. Within and beyond this space, we believe there lives the stunning and reciprocal possibility for everyone to experience the therapeutic relationship as a healing encounter.
This 35+ hour course emerged from a collaborative process that has been thoughtfully, creatively, and passionately co-designed over the last year. With this course, we aim to increase sexual trauma survivors' access to practitioners who bring integrity, compassion, knowledge, and tremendous capacity in the realm of trauma healing and to better ensure that practitioners themselves feel grounded, nurtured, and sustainable in their vocation.
We are profoundly grateful to the 35 humans who brought their fullest selves to these intimate, complex, and transformative conversations.
Module 1 – Trauma and Healing – Recognizing the Resource of Connecting the Individual and the Collective with Nkem Ndefo, Francine Kelley, and Danielle Murphy
Individual and Collective Trauma Healing for Embodied Social Change with Nkem Ndefo
Somatic Healing for Individual and Collective Trauma with Francine Kelley
Contextualizing the Intersection of Racial Trauma and Sexual Trauma with Danielle Murphy
Embodied Therapeutic Approaches for Supporting Survivors with Danielle Murphy
Module 2 – Embodiment as a Resource and a Refuge for Healing with Jessica Schaffer, sage hayes, Santa Molina-Marshall, and Maira Holzmann
Honoring the Wisdom of the Nervous System with Jessica Schaffer
Tracking the Language of The Body in Trauma Healing with sage hayes
Returning to the Body in Sexual Trauma Recovery with Santa Molina-Marshall
Co-regulatory Touch for Trauma Healing with Maira Holzmann
Module 3 – Navigating Individual and Institutional Trauma with Becky Carter, Nataki Edison, Angie Gunn, Margaret Howard, and Vanessa Sapien
Examining the Intersections of Disability, Sexual Trauma, and Incarceration with Vanessa Sapien
Supporting Survivors of Military Sexual Trauma with Margaret Howard
Somatic Approaches to Supporting Male Survivors in Healing with Becky Carter
Supporting Survivors Who Engage in Sex Work Part 1 with Angie Gunn
Supporting Survivors Who Engage in Sex Work Part 2 with Nataki Edison
Module 4 – Advocacy and Community Centered Healing with Kalimah Johnson, michael munson, and Shanda Poitra
Culturally Sensitive Healing Spaces for Black Women & Girls with Kalimah Johnson
Advocacy and Healing for Trans and Nonbinary Survivors with michael munson
Empowering Indigenous Women through Body-Centered Healing with Shanda Poitra
Module 5 – Transformative Healing Spaces for Children and Families with Mary Jo Barrett, Rachel Pauls, and Aredvi Azad & Ignacio G Hutía Xeiti Rivera
Healing Family Violence through the Collaborative Stage Model with Mary Jo Barrett
Somatic Approaches to Supporting Child Survivors with Rachel Pauls
Root and Cultural Shift Work for Ending Child Sexual Abuse with Aredvi Azad & Ignacio G Hutía Xeiti Rivera
Module 6 – Trauma-Informed Approaches to Birthwork, Reproductive Care, and Pelvic Healing with Eri Guajardo Johnson, Dr. Kate Smith, michael munson, and Dr. Paige Yang
The Liberatory Possibilities of Trauma-Informed Birthwork with Eri Guajardo Johnson
Holistic Pelvic Care for Sexual Trauma Healing with Dr. Kate Smith
Pelvic Floor Therapy for Trans and Nonbinary Survivors with michael munson
Fertility, Reproductive Health, and Menstruation Support for Survivors through Traditional Chinese Medicine with Dr. Paige Yang
Module 7 – Individual Trauma Healing Theory as a Map for Social Change with Dr. Tamsin Lee, Robyn Mourning, and Jennifer Patterson
Decolonizing East Asian Medicine with Research, Equity & Health Justice Practices with Dr. Tamsin Lee
Abolition and Sexual Trauma Healing with Robyn Mourning
Shifting to a Sliding-Scale Healing Practice with Jennifer Patterson
Module 8 – Collaborating with the Intelligence of the Survivor's Body, Mind and Spirit with Kate Busby, Dr. Ben Benjamin, and Dr. Emily Siy
Where Resource Meets Overwhelm with Kate Busby
Trauma-Informed Massage Therapy with Dr. Ben Benjamin
Holistic Trauma Healing with Traditional Chinese Medicine with Dr. Emily Siy
Module 9 – Trauma-Informed Approaches to Psychotherapy with Elise Collier, Dr. Peter Gold, Dr. Jim Hopper, and Dr. Shena Young
Embodying Healing as a Therapist with Elise Collier
Mind-Body Psychotherapy with Dr. Peter Gold
Psychedelic-Assisted Psychotherapy with Dr. Jim Hopper
Somatic Psychotherapy to Support Individual & Ancestral Healing with Dr. Shena Young
Module 10 – Trauma-Informed Approaches to Supporting Body-Centered Healing with Chauna Bryant, Laura Khoudari, and Zahabiyah Yamasaki
Breathwork for Individual and Systemic Trauma Healing with Chauna Bryant
Restoring Capacity through Trauma-Informed Personal Training with Laura Khoudari
Anchoring in the Body through Trauma-Informed Yoga with Zahabiyah Yamasaki
About the Author: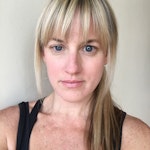 Molly Boeder Harris
Molly Boeder Harris (she/her) is the Founder and Executive Director of The Breathe Network, a Somatic Experiencing Practitioner, and a trauma-informed yoga teacher and trainer. Her own experiences surviving sexual trauma catalyzed her to enter the trauma healing field in 2003, beginning with her work as a medical and legal advocate with children and adult survivors, a campus violence prevention educator, and as a yoga teacher specializing in working with survivors. She earned her Master's Degree in International Studies and her Master's Certificate in Women's & Gender Studies, which inform the way she holds both individual and collective forms of trauma and oppression close together in her work. Over the last 2 decades of her career and healing trajectory, she has found that the practices which recognize the whole person – body, mind and soul – and which also honor the ways in which trauma and resilience manifest physiologically, offer the greatest possibility for embodied justice and social change.
About The Breathe Network
Users of The Breathe Network's resources assume responsibility for evaluating and selecting the providers included in our network. Please discuss your specific needs with the provider to determine whether they have the skills to assist you in your healing.
The Breathe Network, Inc. is organized as a public charity under section 501(c)(3) of the Internal Revenue Code, therefore the full amount of contributions made to our organization are deductible for federal income tax purposes.
Contact Us
RAINN National Sexual Assault Hotline:
1.800.656.HOPE
Online Hotline:
RAINN Online Hotline