Sexual Healing After Trauma
Published: February 21, 2015
"So why choose to reclaim sex…The path of reclaiming the wounded erotic is neither placid nor boring. It is full of dizzying precipices, heady moments of release, crushing assaults of shame. But at its core is the real fire we are all after, that blazing and untarnished aliveness that lies within everything of value and spirit that we do. Right here in our bodies, in our defense of our right to experience joy, in the refusal to abandon the place where we have been most completely invaded and colonized, in our determination to make the bombed & defoliated lands flower again and bear fruit, here where we have been most shamed is one of the most radical and sacred places from which to transform the world."
Very often trauma recovery focuses on restoring the sexual violence survivor to a baseline of normalcy so that they can make it through the day without being repeatedly re-triggered. This is quite natural. No one should have to go through life experiencing the stress and anxiety of experiencing the world as fundamentally unsafe. The majority of healing methodologies rightly focus on releasing negative emotions, memories, and beliefs that the survivor carries from their past traumatic experiences. The goal of healing is ultimately for the survivor to be able to live a normal, happy, and healthy life. Yet, one area that is often under-acknowledged in the healing process is sexuality. Perhaps it is because of the fear that sexuality itself is too raw and painful a place to go with a survivor of sexual violence, or perhaps it is because our culture itself has its own deep and unresolved sexual wounds. Sex is, for many, both an intriguing and a frightening topic. Talking about healthy sexuality at the dinner table, or openly on your Facebook page is bound to get you silence, and in some cases, social exclusion. Trust me, I know. The stakes are high, but only because sex can be really, really powerful.
Our society often shies away from conversations around sex and sexuality, however, at the recent Winter Institute for the American Association of Sexuality Educators, Counselors and Therapists (AASECT), healthy sexuality was the central topic of the weekend. This AASECT event was focused specifically on sexuality and trauma, entitled: Trauma-Informed Approaches to Sexuality: From Coping to Thriving/New Ways to Work as Sexuality Educators, Counselors and Therapists. Over the weekend, other participants and I learned about different types of trauma and how they affect human sexuality. There were lectures, to be sure, but also tantra workshops, breathing exercises, and role plays. It was incredible to see over fifty educators, doctors, and therapists engaged in the topic of healing sexual trauma. It was not easy to talk openly about the pain of sexual trauma, and everyone was affected, especially those in the room who were survivors. Importantly though, over the duration of the weekend, we also discovered how resilient and brave people are in their healing. I wanted to share some highlights from what I learned at the conference about why sexual healing is so important for trauma survivors:
1. Trauma is trauma no matter the size. There is no "big T" trauma or "little t" trauma. Very often people feel that if they were not the victim of a violent rape or crime, then they were not traumatized. But trauma comes in all forms. It could be something that was said to someone as a child, a car accident, an unpleasant sexual experience—it doesn't matter—if someone feels traumatized then they deserve to experience healing. Very often partners of survivors of sexual violence were themselves victims of neglect as children, but they tell themselves that their story and their pain does not matter, compared to the obvious trauma of their partner. Both partners may be wounded. Both need healing. There are methods to healing that can accommodate the separate and unique needs of the individuals within the couple while also serving to restore their connection and intimacy. Consider Ruth Cohn's book for more information about this work.
2. It is important to take an intersectional view of the survivor's whole identity in the healing process—one that is inclusive of their gender, race, sexuality, dis/ability, and more—all of which may impact their experience of surviving trauma. The picture of survivor's healing journey can be deeply influenced by the resources for healing and justice that may or may not be made available to them. Socioeconomic, gendered, and raced realities are a part of the fabric of one's identity and mean that survivors may also respond to trauma in different ways based on the sum of their lived experiences. For example, a trans man who is raped and treated sexually as a woman, may endure both the trauma of sexual assault and the trauma of being violently misgendered, not to mention the barriers that he may encounter navigating transphobic response systems and institutions. It is also important to understand that race, class, and gender can directly affect who is physically and sexually assaulted. One in two transgender people are victims of sexual abuse/assault (Office for Victims of Crime), which often co-occurs with other violence. (See FORGE for additional information) Multi-racial and Native American communities experience disproportionately higher rates of rape (RAINN). Importantly, within the population of Native American survivors, at least 70% of the violence is committed by persons not of the same race. (Futures Without Violence) Furthermore, the way an individual wishes to seek treatment may also vary based on their identities as there is no single path to healing. Let the survivor tell you how they want to be treated, what they require for their healing, and how they wish for their experience and humanity to be held. Let them define the terms of their process. This is essential as sexual trauma creates an immediate and collateral sense of deep powerlessness, invisibility, and the removal of choice.
3. Trauma (emotional, physical, sexual, psychological, generational) often manifests sexually. Sexuality involves both body and mind and requires vulnerability, which can make it intimidating for survivors of trauma who may not yet feel safe enough within their own shape to be sexual. As well, trauma experts tell us that it is not just negative sensation that can be triggering or destabilizing for survivors, but also positive sensations. Anything that creates a loss of control, however brief, can be fear inducing. For more information on navigating this process, see the books by Ruth Cohn and Staci Haines in the resources section.
4. Sex is a human right. Being able to safely and freely experience sexuality is a facet of basic human functioning. Sexual violence takes away this sense of safety, and affects many aspects of a person's overall well-being. However, it is important to remember that not having sex is an important part of a person's right to safe sexuality and self-determination. Asexual individuals may feel romantic love and develop intimate relationships without a desire to engage in sex – this is a valid sexual orientation like any other. When working with asexual survivors, it is important to not assume their identity is the result of trauma. These assumptions often emerge from limiting views about gender and sexuality. Let survivors narrate their own story and do not make assumptions. Remember, "sex" includes an incredibly wide variety of behaviors far beyond heterosexual intercourse, including: self-love, erotic breath work, touch, physical intimacy without penetration and so much more. Finally, as Audre Lorde and Aurora Levins-Morales point out, whether we participate in "sex" in any "conventional" sense is not really important. What matters is that we do not lose our internal sense of the erotic aliveness of our bodies and the world around us. When we awaken our souls and bodies to pleasure, the choice to have or not have sex or engage in sexuality is not the result of trauma, but rather, our own agency, self-knowledge, and desire.
5. Do not avoid the subject of sex with survivors. It is the elephant in the room. When we avoid the talking about sex we simply reinforce the false cultural notion that sex is shameful and to be kept in secret. This further isolates survivors. Sexual abuse brands a person with someone else's shame and hatred (Caputi) and is the extreme result of this cultural taboo. At the same time, avoid over-sexualizing survivors. Some survivors of sexual trauma have internalized their objectification to the extent that they only feel valuable when sexually desired. This is a natural response to surviving sexual abuse. Let your partner or friend know that their sexuality is sacred, that it is theirs, and that they too are sacred. For more information, read Jane Caputi's article on "The Transmission of Affect," listed below.
Above all, just as sexuality can be exercised in harmful ways, as in the case of sexual trauma, it can also be used to heal, transform, and create positive connection. However you look at it, sex is powerful. Think about it: "Whenever mind, emotions, the body, and relationship all interface in one experience, a behemoth of catalytic convergence results" (Cohn, 86). Or, put differently by one of my favorite writers, Aurora Levins Morales, reclaiming sexuality is essential to our humanity because it "at its core is the real fire we are all after, that blazing and untarnished aliveness that lies within everything of value and spirit that we do." (Cohn, 283). We must begin to think of healthy sexuality as an element of our wholeness. Sex for sex's sake is neither inherently healthy nor healing, though it can be if one exercises agency and feels free to experience pleasure. True, authentic sexuality puts us in touch with what Audre Lorde calls "the erotic." The erotic, according to Lorde, "is a measure between the beginnings of our sense of self and the chaos of our strongest feelings. It is an internal sense of satisfaction to which, once we have experienced it, we know we can aspire. For having experienced the fullness of this depth of feeling and recognizing its power, in honor and self-respect we can require no less of ourselves" (189). The erotic is a life-giving force that informs the whole person. If one's spirit is wounded, then their sexuality may also suffer. If one's body has suffered trauma, their spirit may also experience pain. People are complex creatures, and it is not entirely possible to isolate sex from the soul. Thus, a significant part of healing from sexual trauma is learning to be sexual again in a way that is accessible and meaningful to the survivor.
For many, the journey cannot begin directly with sexual healing. It is important to begin wherever one can—by journaling, engaging in movement practices, talking to a friend, working with a psychotherapist, or seeking out other holistic forms of healing treatment. Eventually one may feel ready to explore their sexual self again, even if only with themselves. To cease to experience desire often correlates with a deadening sensation in other areas of one's life. Beginning to feel a sense of sensuality is connected to reclaiming one's voice, agency, creativity,  vulnerability, and power. Sexual healing can even occur in the group environment of a yoga class, a meditation room, or a community acupuncture clinic, although in those settings it may not appear sexual from the outside. Sexual healing emerges when a survivor practices releasing toxic notions of their body, their desire, and their right to pleasure. I have found that being in the presence of others who are also healing is alchemical and powerful. The road to healing is a winding one, and may different methods may be needed along the way.
While it is not always necessary to seek special services to begin sexual healing, specific healers and healing practices may help to remove the obstacles to intimacy such as sex therapists who are trained in both psychotherapy and sexuality and who can guide individuals and couples through the process of restoring intimacy after trauma. I recommend looking for a sex therapist who has had special training in trauma healing modalities such as EMDR, biofeedback, or neurofeedback, and somatic approaches to healing trauma. Additionally, there are tantric practitioners who offer sexual healing services that utilize deep breath work and energy healing to release spiritual blockages that may be preventing full sexual expression. Shamanic healing and other spirit-oriented work, such as soul retrieval, can also be tailored to focus on sexual healing. Some yoga practices are particularly powerful ways to awaken sexually healing energy without directly re-telling or re-experiencing prior trauma. Spiritual work in general can be deeply connected to sexuality, though many modern religious and spiritual faiths have divorced these two aspects. Consider beginning a spiritual or contemplative practice such as meditation, chanting, or simply journaling to get in touch with your own innate healing desire and abilities. Explore your community for local spiritual groups and healing centers that might offer low-cost workshops, meditation instruction, Reiki, yoga, and other resources that connect you to a sense of your own embodiment. Finally, remember that while the process of healing can at times be painful, it is a chance to mend with love, what is broken and frightened, so that it might be transformed.
About the Author: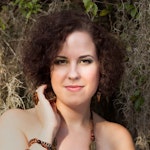 Mary Reid Bogue
Mary Reid is a Women, Gender and Sexuality Studies graduate student at Florida Atlantic University and a former intern with The Breathe Network. She studies the relationship between sexuality and spirituality, and believes that everyone, regardless of race, class, gender, size, shape or creed, deserves to experience bliss. Mary Reid writes about the intricate relationship between sexuality and spirituality on her blog, Dahara Ahkasha (sacred space for women). She facilitates women's workshops on empowerment, sexuality, and self-love in her South Florida community. 
About The Breathe Network
Users of The Breathe Network's resources assume responsibility for evaluating and selecting the providers included in our network. Please discuss your specific needs with the provider to determine whether they have the skills to assist you in your healing.
The Breathe Network, Inc. is organized as a public charity under section 501(c)(3) of the Internal Revenue Code, therefore the full amount of contributions made to our organization are deductible for federal income tax purposes.
Contact Us
RAINN National Sexual Assault Hotline:
1.800.656.HOPE
Online Hotline:
RAINN Online Hotline