Exploring Dancing Mindfulness for Healing Trauma Teleseminar
Published: October 11, 2015
"Every moment of a dancing mindfulness practice provides an opportunity to tell a story. Even if you need to simply sit with an emotion instead of move with it during a moment of your dancing mindfulness experience, you are honoring your personal story in that moment. The act of sitting with or moving with an emotion, a body sensation, or any other experience may end up being a powerful component in writing a new ending for your story." 
In honor of her forthcoming book release, Dancing Mindfulness: A Creative Path to Healing and Transformation, we hosted an interview with Dr. Jamie Marich to explore her work assisting trauma survivors in healing through the holistic movement practice of Dancing Mindfulness. We learned about what lead her to develop the practice, how it can naturally support the healing of trauma, they myriad components of the practice that make it trauma-informed, what it looks like to train with her and become a facilitator of Dancing Mindfulness and her vision for bringing this holistic approach into more and more spaces!
About Dancing Mindfulness
Dancing Mindfulness classes are open to everyone regardless of previous experience with dance, yoga, music, meditation, or spiritual practice, even though Dancing Mindfulness incorporates all of these elements. Since Dancing Mindfulness focuses on "coming as you are," self-discovery, and noticing whatever may happen as part of the experience, it is imperative that classes are crafted to welcome everyone. Dancing Mindfulness classes range from 45 minutes to 2 hours, depending on the venue of and purpose for the class, and various forms of music are incorporated to create a welcoming, integrated container. In a typical Dancing Mindfulness class, participants will be able to realize the rhythmic qualities of their breathing and heartbeats, to discover the healing, lyrical properties in even the most simple movements, and quite literally, to be able to express their own, personal story on the dance floor. If you are the kind of person who likes to dance like no one is watching, or at least would like to try, the Dancing Mindfulness experience is for you!
About Dr. Jamie Marich
Dr. Marich is a clinical counselor and expert in traumatic stress studies and spiritual issues, and Dancing Mindfulness strives to honor the safety and integrity of each participant. Marich trained in several dance forms in her youth (Slavic folk, ballet, jazz) and later competed as a figure skater; she is also an accomplished musician with three folk albums to her credit. Having explored the conscious dance scene throughout her career as a clinical counselor, which including taking training intensives at the Kripalu School for Yoga and Health, Marich ultimately created Dancing Mindfulness as her integrated interpretation (as a dancer, musician, counselor, and spiritual practitioner) of mindfulness in motion. Marich truly believes that we all have an inner dancer just waiting to come out, just as we are all capable of mindful awareness. Dancing Mindfulness is a community practice, not a clinical practice, although Marich draws on her expertise as a clinical counselor to help create the safest dance practice possible within community settings.
Listen to the 60 minute teleseminar here.
About the Author: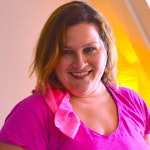 Jamie Marich
Jamie Marich's friends and colleagues describe her as a renaissance woman. A dancer, musician, performer, writer, recovery ambassador, clinical counselor, expressive arts therapist and Reiki Master Teacher, Marich unites these elements of her experience to achieve an ultimate mission: bringing the art and joy of healing to others. Marich began her career in human services working in humanitarian aid in Bosnia-Hercegovina from 2000-2003. She travels internationally speaking on topics related to EMDR therapy, trauma, addiction, and mindfulness while maintaining a private practice (Mindful Ohio) in her home base of Warren, OH. She is the developer of the Dancing Mindfulness practice and the co-creator of the Yoga Unchained approach to trauma-informed yoga.
About The Breathe Network
Users of The Breathe Network's resources assume responsibility for evaluating and selecting the providers included in our network. Please discuss your specific needs with the provider to determine whether they have the skills to assist you in your healing.
The Breathe Network, Inc. is organized as a public charity under section 501(c)(3) of the Internal Revenue Code, therefore the full amount of contributions made to our organization are deductible for federal income tax purposes.
Contact Us
RAINN National Sexual Assault Hotline:
1.800.656.HOPE
Online Hotline:
RAINN Online Hotline