EMDR Therapy and the Healing of Trauma Teleseminar
Published: April 9, 2015
"What I love about EMDR Therapy is that the client can truly verbalize as much or as little of the details as they feel they need to within the flow of EMDR. This happens because EMDR helps to reprocess other facets of a person's experience other than just the verbal/cognitive – we are working with the somatic experiences, energetic shifts, spiritual imprints, and other sensory components."
The Breathe Network hosted "EMDR Therapy and the Healing of Trauma" as part of our monthly series of educational trainings designed to enhance trauma-sensitivity for healing arts practitioners, empower survivors by sharing a range of insights about healing, and increase our societal understandings of the layered impacts of sexual trauma and insights into resilience.
EMDR (Eye Movement Desensitization and Reprocessing) Therapy is one of the most popular and most researched therapies in the treatment of PTSD and other trauma-related concerns. Yet the approach often remains shrouded in mystery and misinformation. In this teleseminar, join EMDR Master Clinician, educator, and author Dr. Jamie Marich as she gives a brief overview of how EMDR works in a practical user-friendly way. She discusses the EMDR approach's conceptualization of trauma as a phenomenon that reaches beyond traditional interpretations of PTSD. This discussion will benefit all helping professionals working with trauma, regardless of whether or not they practice EMDR Therapy.
Topics Include –

*The discovery of EMDR Therapy and the journey to how the field regards EMDR therapy today
*How EMDR Therapy goes deeper than traditional "talk therapy"
*Ideal candidates for EMDR Therapy
*How to get trained in facilitating EMDR Therapy
About the Author: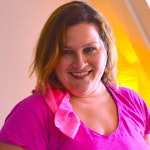 Jamie Marich
Jamie Marich's friends and colleagues describe her as a renaissance woman. A dancer, musician, performer, writer, recovery ambassador, clinical counselor, expressive arts therapist and Reiki Master Teacher, Marich unites these elements of her experience to achieve an ultimate mission: bringing the art and joy of healing to others. Marich began her career in human services working in humanitarian aid in Bosnia-Hercegovina from 2000-2003. She travels internationally speaking on topics related to EMDR therapy, trauma, addiction, and mindfulness while maintaining a private practice (Mindful Ohio) in her home base of Warren, OH. She is the developer of the Dancing Mindfulness practice and the co-creator of the Yoga Unchained approach to trauma-informed yoga.
About The Breathe Network
Users of The Breathe Network's resources assume responsibility for evaluating and selecting the providers included in our network. Please discuss your specific needs with the provider to determine whether they have the skills to assist you in your healing.
The Breathe Network, Inc. is organized as a public charity under section 501(c)(3) of the Internal Revenue Code, therefore the full amount of contributions made to our organization are deductible for federal income tax purposes.
Contact Us
RAINN National Sexual Assault Hotline:
1.800.656.HOPE
Online Hotline:
RAINN Online Hotline