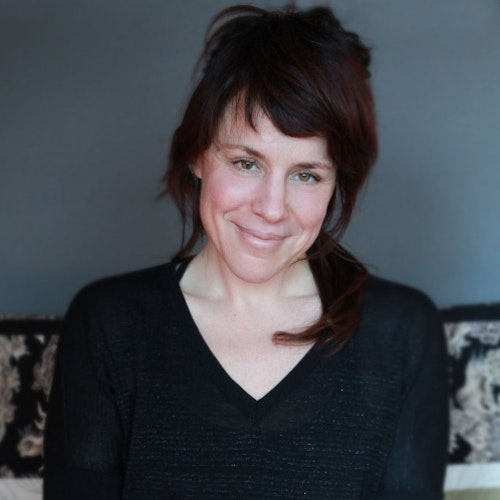 Nicole Marcia, MA, ERYT-500
Nicole Marcia, MA, ERYT-500 is the Founder and Director of Fine Balance Yoga in Vancouver, BC. Since 2004, she has taught therapeutic yoga classes and offered individual sessions to trauma survivors struggling with addiction, depression and anxiety, teaching them healthy self-regulation strategies to empower them to live connected and embodied lives. She also trains yoga teachers and clinicians in the trauma-sensitive yoga theory and techniques required to support trauma survivors in their healing, long-term stability and recovery
About
Since 2004 I've taught therapeutic yoga classes and offered individual sessions to trauma survivors struggling with addiction, depression and anxiety, teaching them healthy self-regulation strategies to empower them to live connected and embodied lives. I also train yoga teachers and clinicians in the trauma-sensitive yoga theory and techniques required to support trauma survivors in their healing, long-term stability and recovery.
Treatment Modalities
I teach trauma-sensitive therapeutic yoga classes and offer individual sessions to trauma survivors struggling with addiction, depression and anxiety, teaching them healthy self-regulation strategies to empower them to live connected and embodied lives.
Experience
In 2009, I was awarded a Master's degree with a specialization in Yoga Therapy from Lesley University in Boston, MA. In 2010, I completed the Trauma-Sensitive Yoga Training at the Trauma Center in Boston, MA, and a course on the fundamentals of teaching yoga and meditation in military communities conducted by Warriors at Ease in Silver Spring, MD. Since then, I have been employed by the Provincial Health Services Association at their Burnaby Centre for Mental Health and Addictions, where I developed a comprehensive yoga therapy program for in-patient clients in various stages of recovery from mental health and addiction issues.
My experience working with women survivors of sexual assault and other forms of violence includes being a support group facilitator at Battered Women's Support Services, working as a yoga therapist with the Aboriginal Women's Health Intervention Program and also supporting front line staff at Women Against Violence Against Women through the creation of an eight-week therapeutic yoga program for self-care.
As a faculty member at Ajna Yoga Therapy School I designed and also deliver the Therapeutic Relationship and the Trauma-Sensitive Yoga for Mental Health and Addictions courses. I am the project coordinator for the Langara College Continuing Studies Therapeutic Yoga for Trauma, Resilience and Emotional Well-being Certificate Course and the yoga programming coordinator at Onsite, the treatment arm of North America's first safe injection site. I also serve as the Director of Training at Yoga Outreach, a not-for-profit organization providing volunteer yoga teachers to marginalized populations. I conduct weekly classes for individuals struggling with depression and anxiety and am currently working with the Mood Disorders Association and the University of British Columbia teaching yoga in their Exercise is Medicine Research Study. I am registered with the Yoga Alliance (E-RYT 500) and the International Association of Yoga Therapists.
My Interest in Working with Survivors
I'm often asked why I chose to specialize in working with trauma survivors. My answer is, "because yoga transformed my life." In the summer of 1994, at the age of 21, I was sexually assaulted and severely beaten by a neighbor. The day I was released from the hospital, I knew that my life would never be as it had once been. What had seemed certain, predictable and true, no longer was. Afterward, I stayed with friends. I paced their courtyard, replaying the details of the assault in my head. I avoided venturing outside lest I come into contact with any reminders of the attack. I stayed out of the sunlight and kept to the cool shadows, where no one would see my badly beaten face, my stitches, my broken teeth. What if someone voiced what was occupying much of my thoughts in those early days: "You deserved it"? My sense of self was so depleted, I might just have agreed with them.
As time passed, I grew to see myself as a vulnerable person in a dangerous and unpredictable world. Few others saw me in this light, and I was, for the most part, moving ahead in my life, but internally I lacked any sense of what the deeper meaning might be other than just surviving. By 1998, I weighed almost 200 pounds; food had become a way to experience nurturing and safety. I smoked up to 1.5 packs of cigarettes a day to calm my anxiety and give me an excuse to escape social interactions when they grew too intimate. I engaged in risky sexual behavior to feel seen and valued. I binged on alcohol and drugs as a way to transcend the contempt I had for myself.
In 2002, I saw Madonna on TV speaking about her practice of Ashtanga yoga. I thought, "Yoga is easy. I could do that and maybe lose some weight." But there was something just below the surface of that thought that was more vulnerable, and it said, "Maybe this will fix me." In those early days of practice, a transformation began to take place. I was taught to focus on breath, be conscious of the sensations that arose in my body, accept myself where I was and ride the ebb and flow of my emotions as a curious and compassionate observer. Although I wasn't entirely aware of it at the time, I was growing into someone I would never have imagined myself to be.
Without conscious effort, the unhealthy coping strategies I had used to manage my trauma-related symptoms began to fall away. For the first time in years, I felt hope. I felt liberated and empowered. As I grew to know myself as a person who was committed, disciplined, strong, compassionate, flexible and adventurous on the mat, I also became that person out in the world. What trauma had taken away, yoga restored. The rumination, anxiety and desire to escape myself disappeared.
Within this practice, I discovered healthy coping strategies. I could breathe through anxiety instead of smoking. I could go more deeply into and accept the sensations in my body that changed with my emotions rather than try to numb them with drugs and alcohol. I could stay present and become an observer of emotions and thoughts as they arose, shifted and fell away. I could choose what was happening at every step along the way. I was in control of my body, from a place of compassion not punishment.
In 2003, I took my first yoga teacher training. I was reluctant to even consider that I might teach yoga to others, but my terror at the prospect told me that I was probably going in the right direction. I know now that, ultimately, I am at the source of my life. I get to create it anew every morning when I step onto the mat, and that is what I want to share with my students. I want my students to know that there is a sanctuary inside of them, and my goal is to create a safe space for them to experience and cultivate that sanctuary so that they can safely explore the landscape of their own stories. To come out of the shadows and into the sunlight. I envision a day when all trauma survivors can easily access compassionate yoga-based care that takes into consideration both body and mind. The work I do is my contribution to that vision, and this story is my motivation.
My Approach to Trauma-Informed Care
My approach to trauma-informed care involves always putting an emphasis on understanding and skillfully responding to the effects of trauma primarily in the physical body in a manner that is safe, respectful and always gives choice to the client. I work from a strengths-based, client-centered model. I see my clients as the experts in their own healing process.
How My Practice Holistically Addresses the Impacts of Sexual Trauma
Yoga addresses the impacts of sexual violence at all levels of being (referred to in yoga as the koshas). This koshic model provides a framework for understanding the human being as existing on multiple levels which include the physical, spiritual, energetic, psychological and intellectual levels. All yoga practices are meant to bring balance back to these different levels of being. For example we explore therapeutic breathing techniques to restore balance on the energetic level, physical forms to establish safety on the physical level, etc. Although yoga is holistic in its nature, I believe that it is best used in conjunction with other modalities when addressing the needs of trauma/sexual assault survivors.
Modifications for Survivors
These are the techniques I utilize when teaching survivors:
I gently invite survivors to explore simple physical forms and notice what their experience is within those forms. Using invitational language rather than directive language I support them in developing a sense of safety in their bodies.

I avoid hands-on adjustments so that survivors can trust that no surprising or unwanted touch will occur in our sessions.

I keep our practices religiously and spiritually neutral so that survivors need not worry about yoga interfering with their already existing beliefs. Instead, we explore yoga as a somatic therapy for supporting the healing process.

I encourage survivors to move within their own pain free range and always give them choice around what to do with their bodies. This means that I endeavor to work with people within a therapeutic window that allows for the cultivation of resilience but also honors wherever they are at.

Within our sessions we welcome all emotions and physical experiences as they arise.

I teach practical, body-based self-regulation and grounding techniques that survivors can bring into their lives.

By co-creating home practices I hope to support my client's in developing mastery in using their bodies as a resource.
Payment Options
I accept cash, check, or online payment.
About The Breathe Network
Users of The Breathe Network's resources assume responsibility for evaluating and selecting the providers included in our network. Please discuss your specific needs with the provider to determine whether they have the skills to assist you in your healing.
The Breathe Network, Inc. is organized as a public charity under section 501(c)(3) of the Internal Revenue Code, therefore the full amount of contributions made to our organization are deductible for federal income tax purposes.
Contact Us
RAINN National Sexual Assault Hotline:
1.800.656.HOPE
Online Hotline:
RAINN Online Hotline