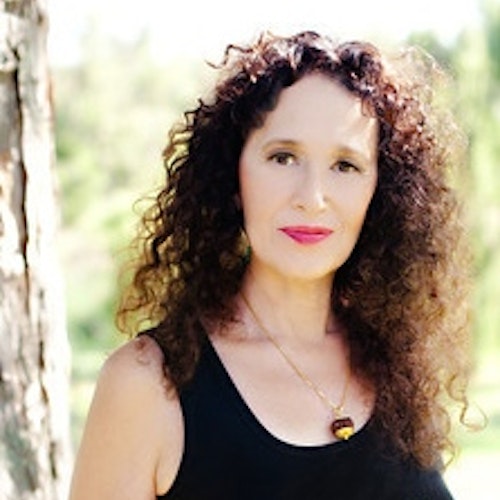 Linda Karl
Linda Karl has been called a maverick, an innovator, and a facilitator of deep healing. Seeking a paradigm shift in the local Yoga scene, she takes students beyond asana into the deeper dimensions of traditional Yoga. She teaches 'mindful yoga', a vehicle for transformation. Linda believes authentic Yoga is not just what you do on the mat but it is also a lifestyle. The words of her teachers in India are the cornerstone of her teaching: teach to people where they are and how they are and whatever happens, happens. Linda believes in the therapeutic benefits of yoga + breathwork + meditation properly applied to the individual.
About
Certified as a Yoga Therapist by the International Association of Yoga Therapists (IAYT), I am also registered with the Yoga Alliance as an E-RYT 500 and a Continuing Education Provider. I teach an intuitive and eclectic practice based on the teachings of Krishnamacharya.  From 2005-2015, I trained in India at the Krishnamacharya Yoga Mandiram, a school that emphasizes "teaching to the individual." As a Yoga Therapist, I trained with Dr. Ganesh Mohan whose yoga therapy program brings together the most effective and holistic healing aspects of traditional Yoga and Ayurveda. I also hold certificates in teaching Trauma Sensitive Yoga and Therapeutic Yoga for Seniors. I am humbled and honored to be featured in the 2014 book "Conversations with Modern Yogis."
Treatment Modalities
The Yoga I teach is a powerful combination of asana, breath awareness, meditation, and intuitive healing. It is yang (movement) and yin (stillness) Yoga, blending softness and strength. I encourage students to compassionately explore their "edge" as they strengthen their bodies, expand their hearts, and free their minds. My teaching arose from a lineage that is about Yoga to fit the individual, a highly individualized breath-centered practice that is truly holistic, encompassing all the tools that Yoga offers.
As a complement to the self-empowering Yoga that I teach I also offer Reflexology and Integrated Energy Therapy. 
Energy work is a spiritual practice for me. As a life-long Empath I am open to the Source of Healing and flow as I am directed. Having trained in a number of energy work modalities I call what I do Integrated Energy Therapy because we are working with Universal Energy and your personal energy known as Prana or Chi. Energy work is a potent, complementary modality to a personal wellness program and your energy has its own innate wisdom to guide itself to wherever you need the most relief whether it is physically, mentally, or emotionally.
Reflexology is a centuries old compression technique used on the soles of the feet that affects specific organs as well as the the entire body. It reduces stress and induces deep relaxation while at the same time revitalizing your energy; it can improve circulation and balance your whole system. Reflexology combined with energy work is doubly potent, helping to support the body in order to facilitate an environment for relief on all levels.
Yoga + Integrated Energy Therapy + Reflexology is a powerful and potent combination for trauma survivors seeking relief from anxiety and depression.
Experience
I taught Yoga and meditation as a volunteer for a domestic violence shelter in Aurora, Illinois for almost 10 years. I also hold private classes for trauma survivors. I have completed extensive training in yoga therapy, yoga for Seniors, trauma-sensitive yoga, and more in the United States and India. Currently, I teach out of my home studio, which is surrounded by beautiful gardens. My classes are for beginners who are seeking authentic yoga with a meditative emphasis, for those who want more than what a public yoga class can give them, and for dedicated practitioners seeking to expand their practice on a deeper level. I welcome people of all backgrounds, abilities, genders, and ages. I value the idea of "living your yoga" and believe in the importance of community, diversity, deep self-inquiry, and healing.
My Interest in Working with Survivors
I am interested in working with survivors because I am a survivor of child abuse, sexual assault, and domestic violence. From my very first Yoga class, Yoga helped me re-connect to myself and find the person I thought was lost. It is my passion to show those who have suffered that they are not alone in their suffering and that they can help themselves via the art and science of Yoga.
My Approach to Trauma-Informed Care
"I slept and dreamt that life was joy. I awoke and saw that life was service. I acted and behold, service was joy." (Rabindranath Tagore) We are all the walking wounded and I believe that Yoga should be brought to any and all who are underserved in the modern Yoga world. I teach Yoga from the perspective that it is not one size fits all. As I learned in India, we begin where we are and how we are, and whatever happens, happens. The word "metta" in my business name is a Pali word meaning "friendliness." Yoga practiced in this manner is about befriending your body and becoming your own best friend.
How My Practice Holistically Addresses the Impacts of Sexual Trauma
Many survivors suffer from depression and/or anxiety and because of trauma, are disconnected from their physical bodies. The breath is the anchor of the Yoga I teach because mindful breathwork has a direct effect on the nervous system. It becomes the object of focus that can help bring people out of past traumatic events and back into the present moment where life is lived. Mindful breathwork can also help people release themselves from the seemingly unending wheel of anxiety. Mindful breathwork combined with mindful movement helps people reconnect with their bodies. I also teach survivors about Metta Meditation, a practice of developing loving-kindness and compassion for themselves.
Modifications for Survivors
Since I teach from a lineage that emphasizes teaching to the individual, I emphasize how Yoga is Not One Size Fits All. Everyone is different. A student can use yoga props if needed or spend the entire class resting in Child's Pose or Savasana if they feel the need to do that. I also do not do the typical physical adjustments or manipulations as seen in yoga studios because many times a trauma survivor is uncomfortable with being touched. If I do see the need to adjust someone for the safety of their body, I always ask permission first. First and foremost, my classes are about safety and comfort.
About The Breathe Network
Users of The Breathe Network's resources assume responsibility for evaluating and selecting the providers included in our network. Please discuss your specific needs with the provider to determine whether they have the skills to assist you in your healing.
The Breathe Network, Inc. is organized as a public charity under section 501(c)(3) of the Internal Revenue Code, therefore the full amount of contributions made to our organization are deductible for federal income tax purposes.
Contact Us
RAINN National Sexual Assault Hotline:
1.800.656.HOPE
Online Hotline:
RAINN Online Hotline